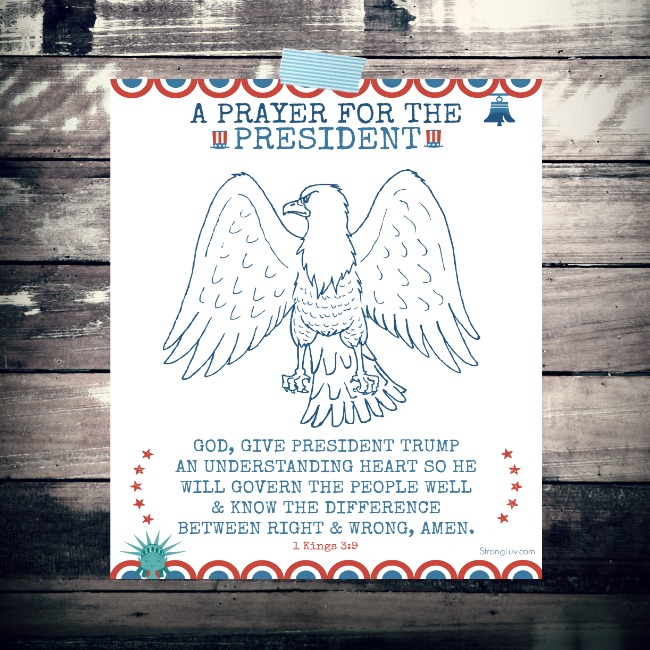 These past few years have been a crazy contentious time for our country.  The 2016 Presidential race between Donald Trump and Hillary Clinton divided us like never before.   Half of Americans felt excited and hopeful as President Trump took office last month, the other half exasperated and slightly horrified.
Emotions have run high this past year.  For some, the strength of those emotions and passion for particular principles has ended in broken relationships, fractured friendships, lagging libidos, insomnia, anxiety, and depression.  The election has definitely taken a toll.
The election has definitely taken a toll.
Whether you feel devastated or delivered; hopeful or horrified; exasperated or excited; isolated or inspired — or somewhere in the middle — there is one thing every American has in common: We all live in the same country and we ALL have the same President.
I wish Donald Trump would've torn down the playboy cover framed on his wall and apologized for the leaked locker room talk comments, but he didn't.  I wish even more that Christians would stop defending his every move with the incomprehensible notion of him being a Christian.  Nonetheless, there is One who sets up kings and One who brings them low, so regardless of the man who holds the office, God is sovereign and will have His way.
He changes times and seasons; he removes kings and sets up kings -Daniel 2:21
A Prayer for The President
Regardless of how we feel about the man, despite our personal politics and partisan positions, let's agree on one thing — our nation and President, need our prayers.  Badly!  This is the beautiful prayer Solomon prayed when he became king:
"I am only a little child and do not know how to carry out my duties.  8 Your servant is here among the people you have chosen, a great people, too numerous to count or number.  9 So give your servant a discerning heart to govern your people and to distinguish between right and wrong.  For who is able to govern this great people of yours?"   1Kings 3:7-9
A Prayer for the President Watercolor Art Print

The bald eagle was chosen as our National Bird by our Founding Fathers because they believed eagles symbolized the same virtues the United States possess — freedom, strength, and courage.  President John F. Kennedy once wrote:
"The Founding Fathers made an appropriate choice when they selected the bald eagle as the emblem of the nation. The fierce beauty and proud independence of this great bird aptly symbolizes the strength and freedom of America…"
As the symbol on the President's flag and because of what it exemplifies, I wanted to include a bald eagle on the Prayer for The President Print.
A Prayer for The President Print for Kids

TAKE ACTION:  Set a daily reminder on your phone or grab one of these prints as a reminder to pray for our president and nation on a regular basis.  He needs it … we all need it!