We just celebrated StrongLuv's one year anniversary this past Valentine's Day, unfortunately due to unforeseen circumstances we weren't able to have a proper celebration.  Bummer right?!  I envisioned parties and confetti and fist bumps, but sadly, the unexpected events immediately redirected ALL of my energy.
When we started StrongLuv we promised to be gut level honest about our journey to strengthen our marriage, family, and community.  The vulnerability and transparency required to do so has stretched us in the best way possible.  We also committed to ourselves not to write about things we're currently knee-deep in the middle of.
StrongLuv exists to be a blessing and resource for you so before I hit "publish" on the more transparent posts, I always ask myself if I'm in a healthy place regarding the topic I've written about and if sharing it will be helpful or beneficial to you in your own journey.
Unfortunately being intentional about being deeply connected and working at having the best relationships possible doesn't automatically make us immune from some of the difficult challenges most people face.  I wish it did.  This current situation we find ourselves in is one that many of you are currently facing or have faced in the past so when the time is right we'll definitely share more.
A Gift for You
StrongLuv is about sharing practical ways to make our lives and relationships deep and meaningful in the B through Y of life — basically the messy middle.  In the spirit of that, I wanted to give you a sweet little Alphabet I Love You Watercolor Art Print as a reminder that love can found in every season and circumstance.
This alphabet art print is like the perfect pair of jeans — it can be dressed up or down — it's your choice.  I decided to elevate mine a bit by putting it behind glass.  I chose an 8×10 with a 2″ thick black frame, similar to this, and it looks super sharp.  If you wanted to use it for something more temporary you could slap it up with your favorite decorative tape.
It's versatile too.  You can frame it for yourself, give it to your partner, use it as a cute, modern Alphabet Art Piece for a child's bedroom, or gift it to a close girlfriend for her birthday.
Alphabet I Love You Print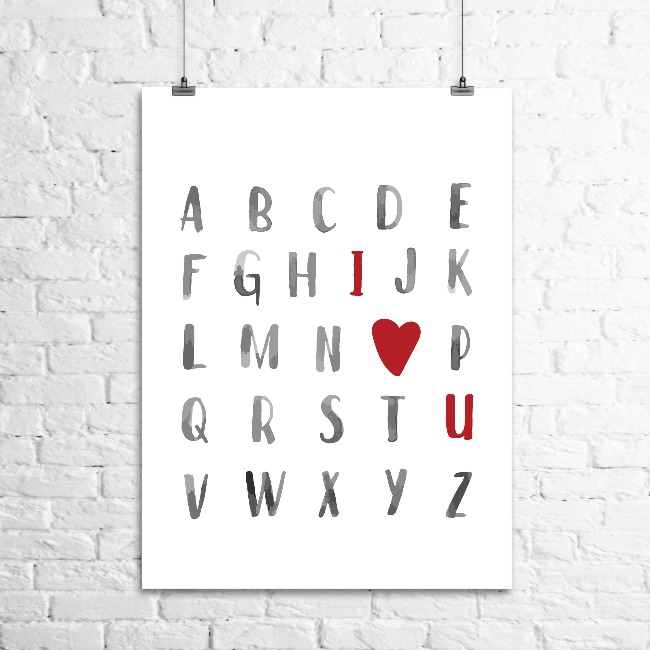 Send Me The Printable!
I hope you like it 🙂
TAKE ACTION:  Whether you use this Alphabet I Love You Print or not, take a minute to think of at least one whimsical way to express love to someone you care for TODAY.