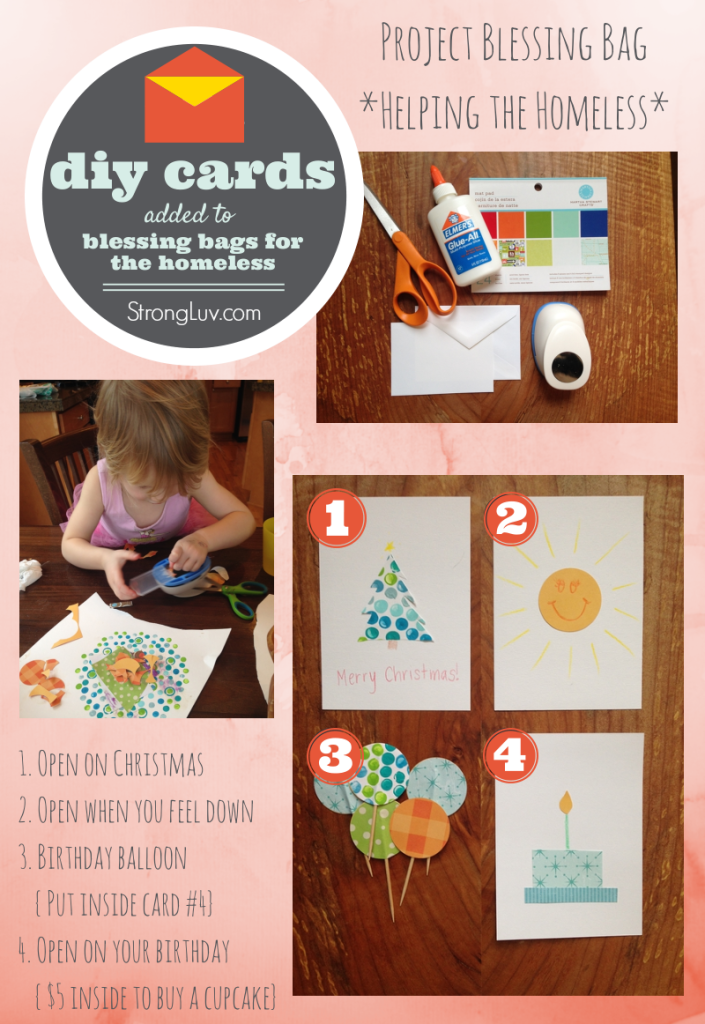 One of the things we wanted to add to our BLESSING BAGS for the homeless of our area were hand made cards.  We included 3 in the BLESSING BAG / BACKPACKS and one in the Standard Blessing Bags.  The cards are meant to be opened on different days to remind them that they are not alone, but I don't really care if they open them all at once!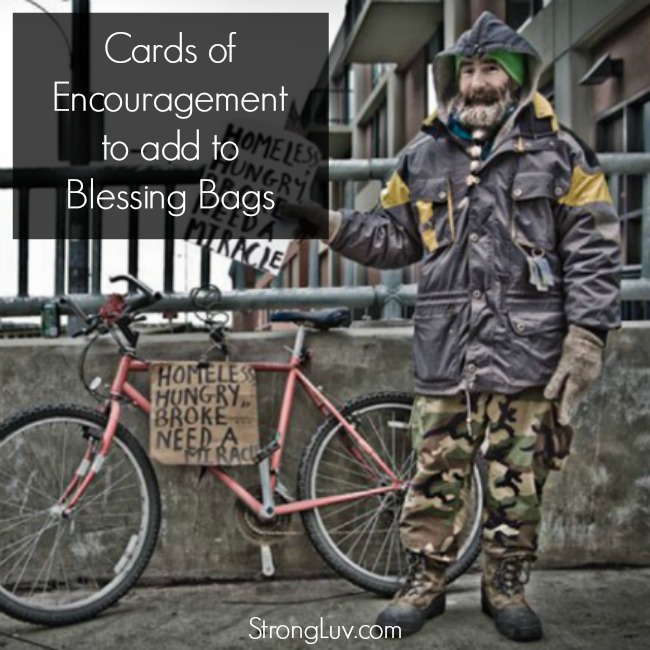 The Encouraging Cards for the Homeless we included:
One to open on CHRISTMAS – on ours we wrote a scripture verse and a note of encouragement.
One to open when you are FEELING DOWN – we wanted to lift their spirits with a little bit of sunshine!
One to open on your BIRTHDAY – in this card we included $5 to buy themselves a pastry or cupcake at their favorite bakery.  We also added little "balloons" which we made by gluing two cut circles together with a toothpick in the middle.  We thought it would be nice to decorate their birthday treat.  I'm not sure whoever gets the bags will actually wait until their birthday to open the card but it's not my business.  I just want them to feel so cared for.
Hand making cards can be an undertaking, especially if it's not your thing and you are making a bunch of blessing bags, so I went ahead and made some for you to print out and cut to size!
I loved a card I saw from another blogger.  What she wrote was so heartfelt.  Since I always freeze when it comes to writing something profound or awesome in cards I just went ahead and stole the words right off of her Pinterest board!  Thank you Blair!  She has a wonderful Blessing Bag Post.  Another great post from Joy's Hope features the "blessed to bless" bag project that she did with her family.  Love it!  You should check them out!
If you decide to print these cards, make sure to use card stock.
Universal Blessing Bag Card:
CLICK HERE TO GET THESE NOTES OF ENCOURAGEMENT FOR YOUR BLESSING BAGS
  *If this project inspires you please share it with your friends on FB, Twitter or Pinterest! – Thanks in advance!
Blessing Bag Christmas Cards:
You can cut these and use them as four separate post cards or fold them to make two!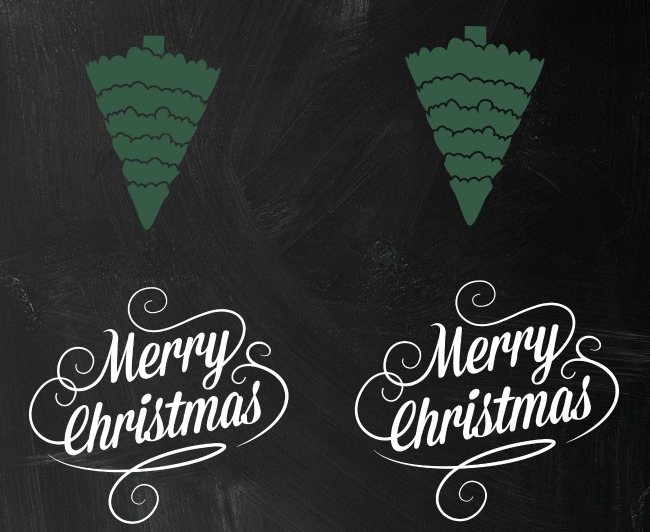 CLICK HERE TO GET THESE CHRISTMAS CARDS FOR YOUR BLESSING BACKPACKS
Blessing Bag Encouragement Note Cards:
Print this out and for two separate cards. These are my favorite!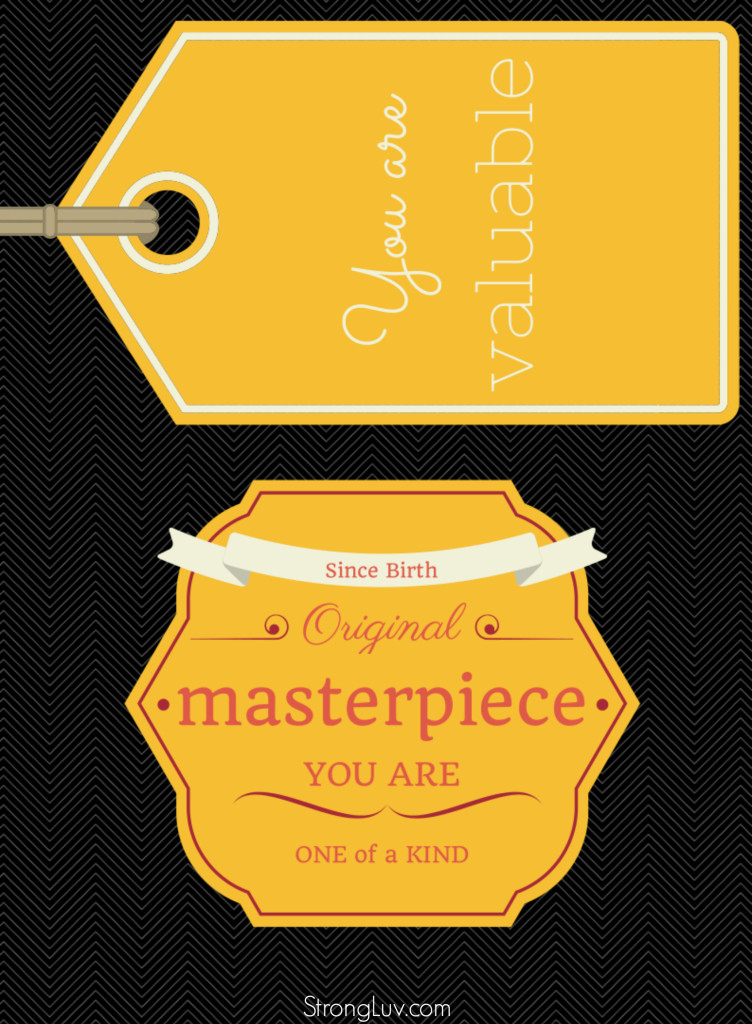 CLICK HERE TO GET THESE ENCOURAGING NOTECARDS FOR YOUR BLESSING BACKPACK
Blessing Bag Birthday Cards:
This is one of the two foldable birthday cards I created for you.  The other is just like it with a different font.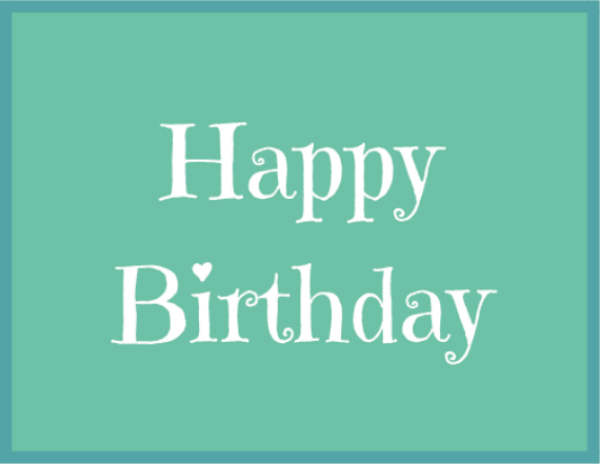 CLICK HERE TO GET THESE BIRTHDAY CARDS FOR THE HOMELESS
You guys rock!  I hope these blessing bag cards help you add a special touch to your BAGS or BACKPACKS.  For more inspiration on this project check out my blessing bag and homeless boards on Pinterest.  You can link to them below.