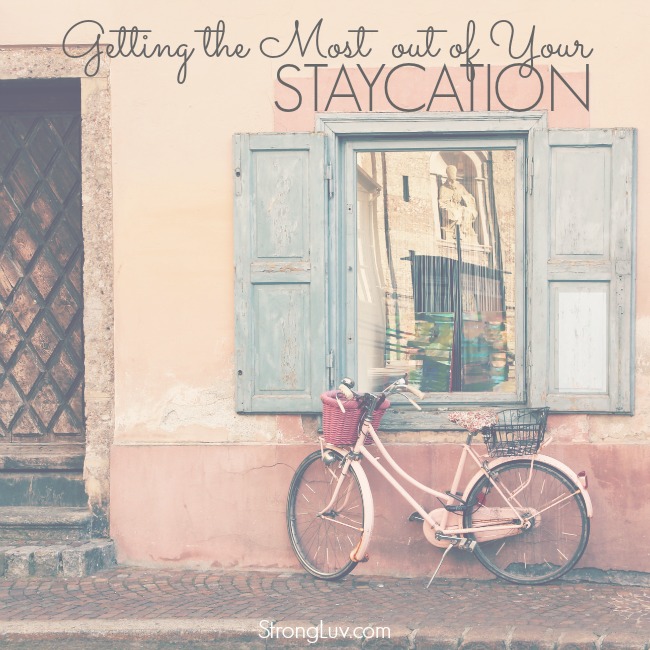 Summer is staring us straight in the face, you guys, demanding we figure a few things out — like, what we're gonna do with our kids for 11 weeks during summer vacation!!  Our family has a few things on the docket but I was thinking about adding a STAYCATION to the calendar to liven things up.
We fell in love with staycations after living out of our suitcases and traveling with our tribe, full time, for 4 months.  Once we bought a house and put down roots, back in Seattle where David and I grew up, the idea of vacationing away that first year was unappealing.   Still needing a break from our busy schedules and wanting to get reacquainted with the city, we opted for a few staycations instead.
If you aren't familiar with the term, a "staycation" is a vacation without ever leaving home.  If that doesn't sound like a vacation to you, it's probably because you're not thinking about it the right way.  So, I wanted to share some of the things we've come to love about carving out a little rest and relaxation for our family without packing our bags, and the drawbacks you should be aware of too!
Advantages of a Staycation:
They're a great alternative if you need to "get away" but don't have much vacation time.
You're still taking time out to connect with your family in an intentional way.
No wasted time packing and waiting in airports or in the car.
It's cheaper because you're sleeping in your own bed and don't have to pay for a ton of gas or airline tickets.
You're supporting local businesses.
You get to play tourist for a day — minus the getting lost part!  It gives you a chance to do the things in your city you've always wanted to do but never found the time for.
You still get a break from work (even if it is just a day or two extra tacked on to a weekend) which will energize you and hold you over until your next vacation away.
Disadvantages of a Staycation:
You'll set yourself up for disappointment if you don't plan it right.
You might be tempted to work since you didn't actually leave town.
You'll still be spending extra money.
You might lose the staycation vibe when you see a pile of laundry or think about the other jobs you need to take care of.
A staycation can be as fun and relaxing as any vacation, or just as hectic as any other day.  How well you plan for it will make or break your experience.  These five tips will help you safeguard your family time and avoid the common pitfalls people face when planning a staycation of their own.
5 Ways to Make Your Staycation as Good as an Expensive Getaway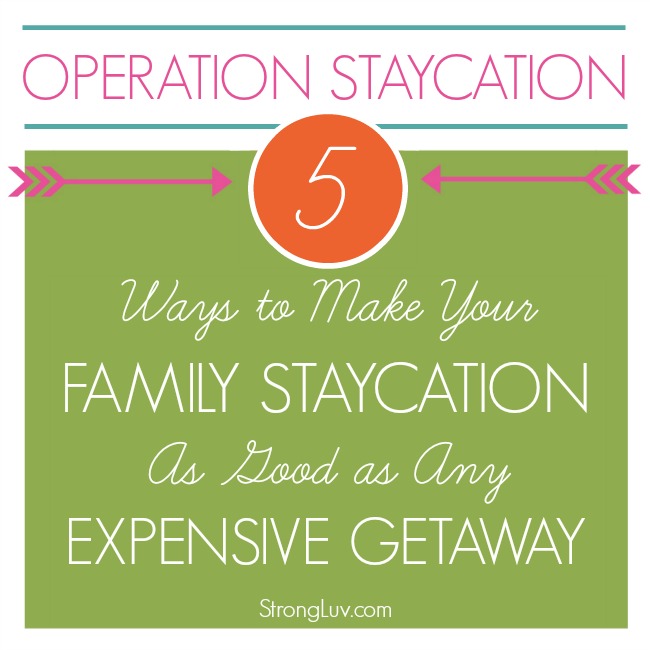 Stay Close:  The activities you do during your staycation should be close to home so you can sleep in your own bed at night.  Don't overextend yourself and try and go somewhere too far.  The exception to this is if you want to go for one night to a fancy hotel in the city or a bed and breakfast nearby that you've been dying to try.  Splurge one night and save money by staying home the other nights.
Get Unplugged:  Leave the computer in the office and make it off limits for the duration of your staycation.  Don't cheat!  Work can wait.  It's vacation time baby!
Do Something You Haven't Done:  We often ignore the places nearby and put them in the back of our head as things to do "someday."  Well, someday has now come.  Or maybe there is a place you don't even know about yet.  Research your city to find something everyone in the family will enjoy.  Paintball?  A museum?  The local dinner train?  A different beach?  A family picnic at the end of a hike?  A theater production?   Let each family member pick one thing and work your "itinerary" around those affairs.
Don't Over Do It:  You want to do fun activities on your staycation, but don't run yourself ragged.  Don't book yourself up with a bunch of things to do to the point where you are completely exhausted.  Factor in some downtime so you can be refreshed after your time off.  This is especially important if you have kids!
Splurge:  Yes!  Since you're saving a bunch of money by sleeping at home and not going far — treat yourself.  Don't be afraid to splurge on a nice dinner for everyone or enjoy a little R&R with an afternoon at the local spa.  There have to be a few things you have been wanting to do but were just slightly out of budget or you haven't made time for in your daily life.  Here's your chance!
One way to nab a fabulous (and thrifty) staycation is by using a popular deal site like Groupon or LivingSocial.  Look up what deals are going on nearby now to receive email updates of new offers as they become available.  Costco is another great resource, offering discounted tickets to popular attractions and restaurant gift cards.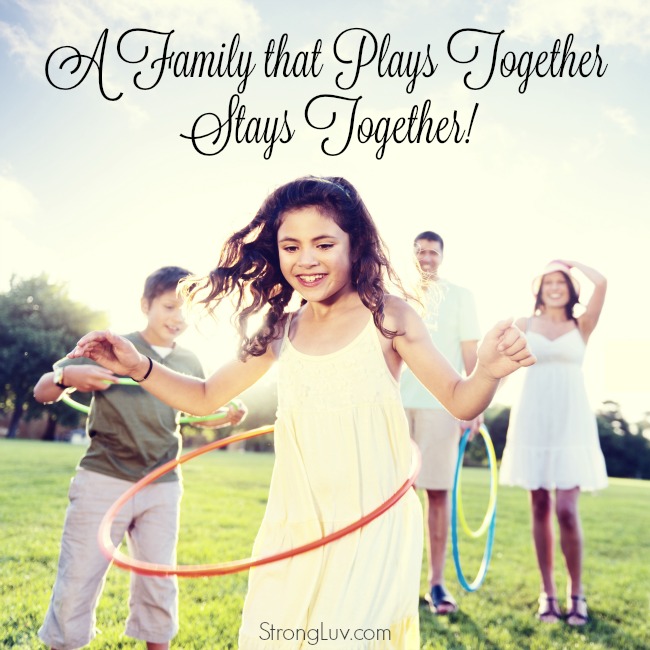 Regardless of whether you have two days to tack onto a weekend or two weeks off of work, devoting yourself to connecting with your loved ones and rediscovering your own city can be surprisingly fulfilling.  But remember, the key to a successful staycation is in the planning.
If planned thoughtfully, a staycation can scratch that itch for adventure and give you the break you desperately need.  They're a cheap way to do something special, get your mind off of the daily grind and make new memories with your family!
TAKE ACTION:  Avoid the temptation to 'wing it' and start planning your Staycation now.  Interview each member of your family about what specific things they'd like to do so you can budget for and schedule in those activities!
*I'll be dedicating the next few posts to giving you unique and FUN ways to connect as a family over summer vacation, so stay tuned!