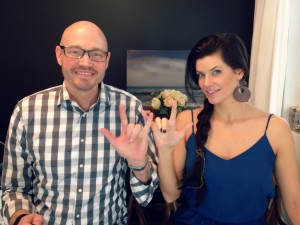 We are thrilled to finally share something that has been a labor of love for us for quite a while now.
We are kicking off our new Relationship Blog, StrongLuv, with the first of three 21 day experiments in hopes of creating Stronger bonds in the relationships that matter most.
Starting on Valentines Day we'll be posting every day for 21 days about the Marriage portion of  The StrongLUV Experiment.
We are far from experts on relational matters yet feel compelled to share our journey in hopes of it striking a chord with those of you who are frustrated with our increasingly isolated culture and everything that is pulling us away from our core values and relationships.
David and I are committed to loving fully and fearlessly as well as sharing honestly what is and isn't working for us.  
Our sincere hope is that whenever you interact with the content on this site that you would leave feeling encouraged, inspired, and equipped with practical actions you can take to strengthen your own relationships.  
Alright, let's get this LUVolution started!