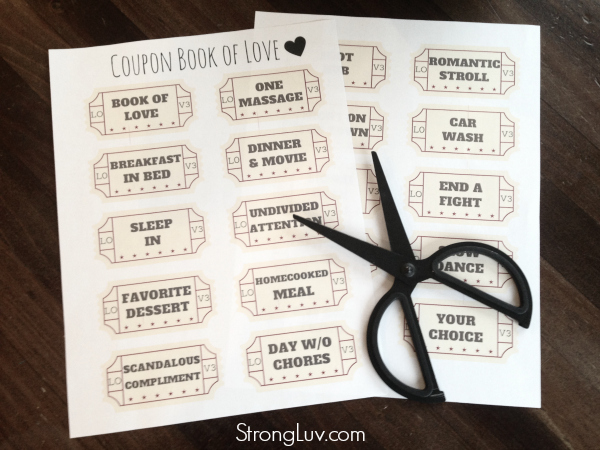 Making a Love Coupon Book for your husband or wife is a thoughtful, free gift you can make in a pinch.  When we got married, we quickly got ourselves in a mess of debt, so making a couples coupon book for David was a natural choice.  Nothing like being strapped with a mortgage, car payments, and college debt, to figure out a few  free gift ideas.
FREE Gift for Your Spouse – Downloadable Love Coupons
Back in the day I had to draw the coupons myself — that was before Pinterest existed or free printables were plentiful online.  I made this Coupon Book of Love  for my husband, full of vouchers to "cash in" whenever he wants throughout the year

VOUCHERS in the COUPON BOOK of LOVE:
Breakfast in Bed
One Massage
Dinner and a Movie
Favorite Dessert
Sleep In
Undivided Attention
Home-Cooked Meal
1 Scandalous Compliment
Day without Chores
Foot Rub
Romantic Stroll
Night on the Town
Car Wash
Lunch Date
End a Fight!
Passionate Kiss
Slow Dance
Any One Thing
Free Choice
Click Here for the FREE Coupon Book of Love!
These sweet and spicy coupons are a great example of how good gifts have nothing to do with cost.  
Make sure to take advantage of the FREE Printable love vouchers for your husband or wife.
The most romantic gift I've ever received from David were brand new, hand cut DIAMONDS — made of paper.  During one of those lean years I mentioned earlier, he cut them out and tucked them in the little blue velvet box my engagement ring came in.  He included a note that said: "I dream of surprising you with the real thing someday, you mean so much to me Emily."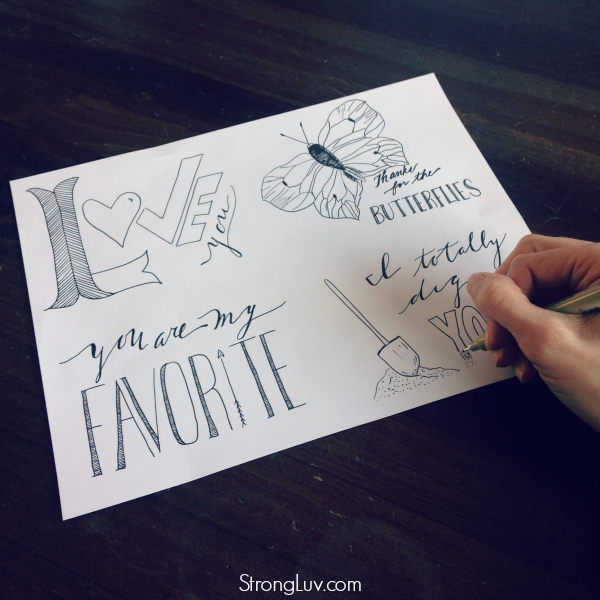 If you're not sold on the Couples Coupon Book idea (what's wrong with you!-)), think of a way to gift your spouse with something small that shows them you're paying attention to their needs and desires.  Arrange a night home with the kids so he can enjoy dinner out with a friend or make cards or artwork for him.  Be creative!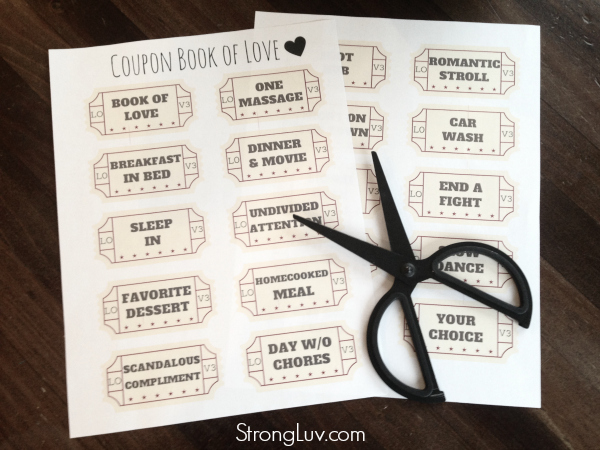 Grap the Coupon Book of Love!
TAKE ACTION: Whether you're rich with funds of just rich in love, challenge yourself to exchange at least one gift with your spouse that's high on thought, low on price.  I dare you!  It's a fun challenge — especially if you keep the budget to $5.