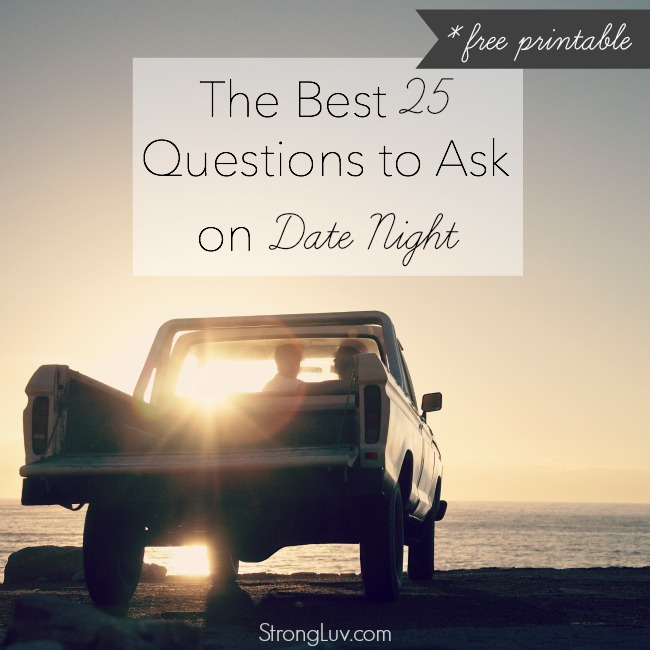 Whether you're dressing up for a hot date out on the town, staying home for a date night in, or splurging on an overnight date this list of 25 Date Night Questions is sure to help you stay engrossed in lively conversation with your partner.  Communication is the cornerstone of any delightful and satisfying evening together, but after a long week it's easy for brain fog and fatigue can set in — can I get a witness?!!  Being intentional about asking intriguing questions, like these, on your date will fend off boredom and leave you feeling more connected and in sync!
The Best Date Questions Do One of the Following:
Teach you something new about your spouse
Take you on a walk down memory lane
Give the opportunity to express personal passions or shared dreams
Require reflection
Make you laugh
Inspire one or both of you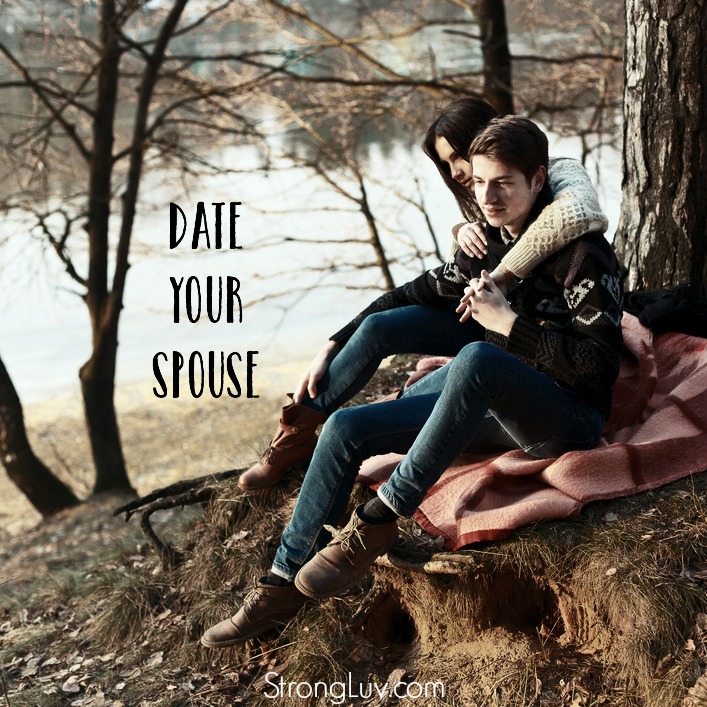 25 Questions to Ask During Date Night:
What's one song that you've been recently inspired by?
When do you feel most relaxed and at peace?
What's the all-time most embarrassing thing that's ever happened to you?
What was your favorite vacation as a kid?
What was the most meaningful family tradition you had growing up?
One sunrise activity and one sunset activity you'd like us to do together this year?
What's the funniest YouTube video you've ever seen?
How often do you want to have sex?
What's your favorite indulgence…besides sex?
If we could go anywhere for our ___ anniversary, where would you want it to be?
What's your idea of a perfect marriage?  What's something we can do to improve ours?
What will our life look like in 5-10 years?
What would you most regret not doing or being in life?
Do you feel close to God right now?  Was there a time in your life when you did?
What's the one thing you are most proud of?
What's one practical thing I can do to help you reach your goals?
Is there a smell that brings back a vivid memory for you?  What is it?
If you could write a book what would it be about?  What's the title?
Besides family, who's the one person who's impacted your life the most?
If you could be famous for something, what would you want to be known for?
How would you spend $1000 if you HAD to spend it on yourself?
If you didn't have to worry about money, what would you do differently?
What's the first thing you want us to do when we retire?
What's the first thing you'd do if you lost your job without notice?
 If something happened that altered your appearance, how would you prove your identity to me?
Date Night Questions Printable: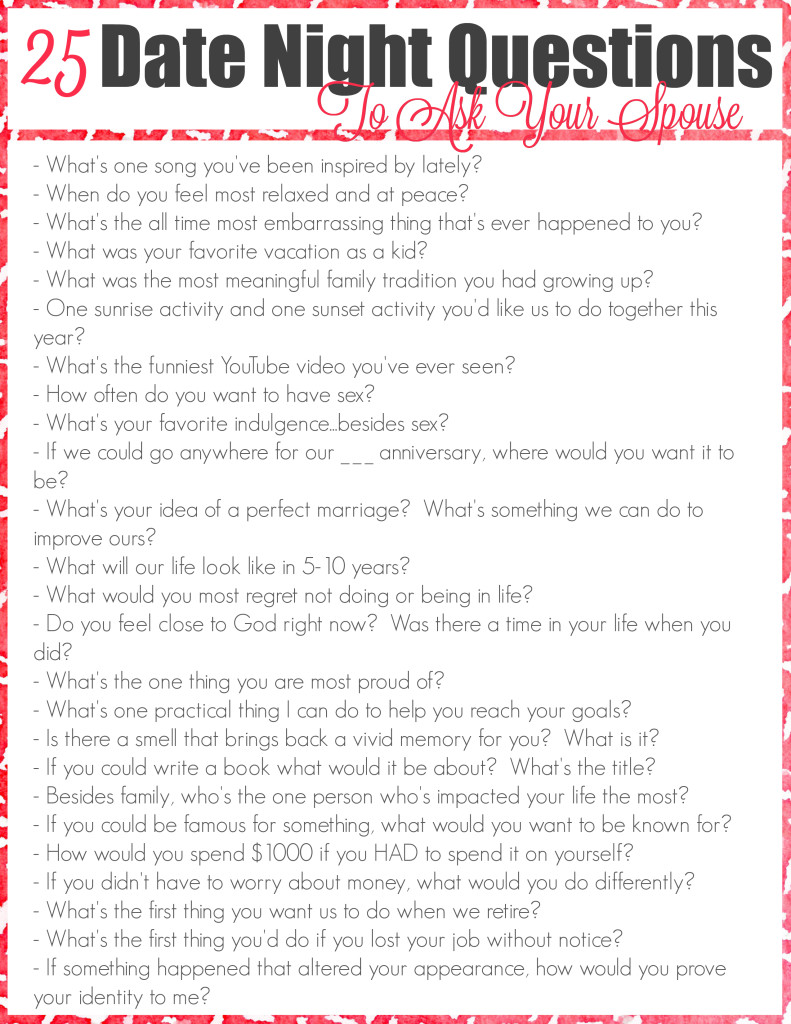 TAKE ACTION:  Plan a regularly scheduled date night.  It took David and me until Day 10 of our Marriage Experiment to finally make date night a priority.  I can't tell you how much of a gift it has been to our marriage — We want the same for you!