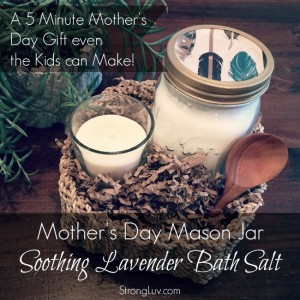 One thing most wives and mamas love to do after a busy day is take a nice hot bubble bath – I know I do! But even better than a bubble bath is a long soak in an Essential Oil infused Epsom Salt bath. My favorite is Lavender so I thought it would be fun to put together a tutorial on how to make Soothing Lavender Bath Salt just in time for a little DIY Mother's Day gift.
Since the first of the year my one (and only) New Year's resolution was to take at least three candle lit baths per week. It's not your typical resolution to be sure, but it has been a sweet reminder throughout the week to slow down and take care of myself.  It's easy for us moms to get so focused on the needs of everyone else that we forget to slow down and take a deep breath.
I'm happy to inform you that I have kept my resolution!
I posted a pic of my bathtub on social media with a little blurb about the heart behind my unusual resolution and was surprised by a few response I received. Most were positive, but some women responded along the lines of "wow… it must be nice but I could never get away with that!"
I don't know why our culture glorifies overworked, frenzied lives, but I'm pretty sure it's rubbish.
So just remember, fellas, your wife may unconsciously need you to give her permission to relax. It's stressful to be pressed on every side with the message that her value rests in what she does and how well she performs.
I can almost guarantee that she will squeeze you a little stronger if you surprise her with a mason jar full of homemade Lavender Infused Bath Salt.  Not for the gift itself, but for what it communicates to her. It sends her a message of her innate value and how much you care about her needs.
DIY Lavender Epsom Bath Salt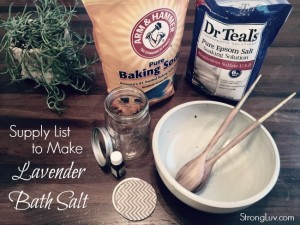 Supplies Needed to Make All Natural Lavender Scented Bath Salts
*It's likely that you have some of these items at home already but I've added links to Amazon for the things you don't.
For 1 Quart Worth of Bath Salt:
You can use any lidded jar you want but I suggest using a Mason Jar of some sort.  Mason Jars hold a special, unexplainable power over most women.  It's a whole thing.  Just trust me.
Making Detoxifying & Soothing Lavender Bath Mix
Part of the thing that makes this the perfect DIY Gift is because it is ridiculously simple to make.  Seriously, my 4 year old can do it.  It's as easy as measuring equal parts Epsom Salt and Baking Soda into a bowl.  Then add a few drops of her favorite scent via Essential Oils, mixing it up and dropping it into a jar.
Violla!  Instant hit with any wife or mom.
1. Mix Ingredients:
2 C. Epsom Salt – Costco has a two pack for a great price.
2 C. Baking Soda
6 Drops of Lavender Essential Oil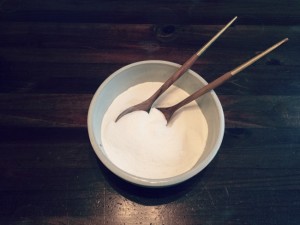 2.  Pour Mixture into the Mason Jar
3.  Prepare the Lid
I'm a little crazy for gold right now so when Justice and I made these as gifts we opted to paint the ring gold and used a beautiful paper to decoupage the lid.  The extra work to paint and decoupage is pretty but not critical.  If all you have laying around is some cool wrapping paper or scrapbook paper you can trace around the lid and cut the paper to fit between the ring and the lid for a pretty alternative (pictured below).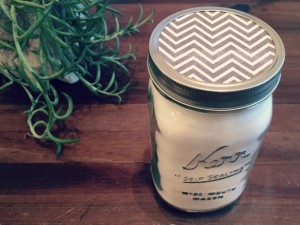 If you want to go the extra mile and make a Soothing Bath Basket here's some inspiration: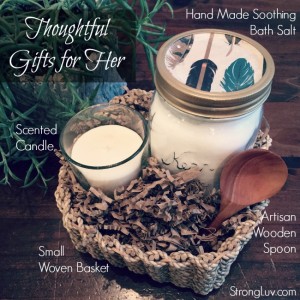 These also make great gifts for:
New Moms
Birthdays
Get Well
Teacher Appreciation
House Warming
TAKE ACTION:  Communicate to one person how much you appreciate them today.  Make it about who they are and not what they do!  And go take a bath 🙂