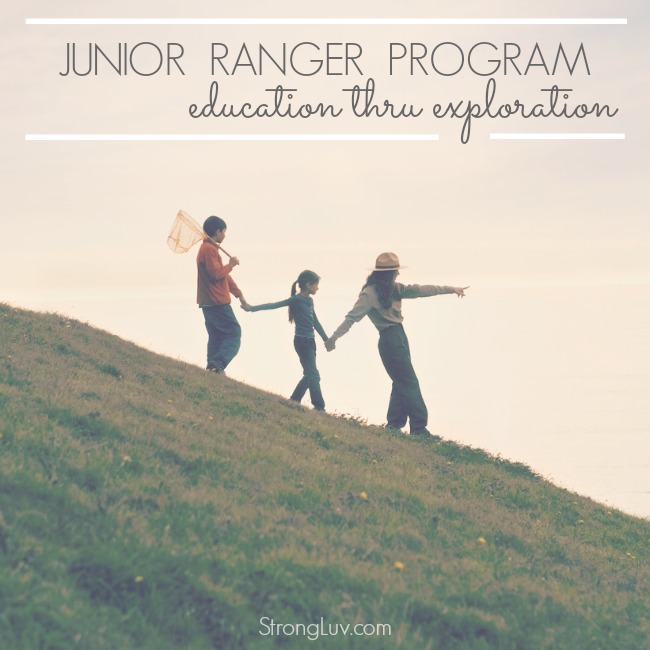 Filling up Summer days with engaging activities for kids can be exhausting, thankfully we discovered the Junior Ranger Program while we were on the road full-time, a few years ago.  And you know what?  It makes me feel more rewarded than Pavlov's dog after the bell rang!  I'm excited just thinking about it.
It's not normal.
Why We Love the Jr. Ranger Program
Have you ever told your kids learning is fun?  I bet you felt bad saying that when they came home exhausted after a long day of school with a backpack jammed full of chapter books, math packets, reading logs and vocabulary words to study.
I don't remember school feeling as taxing as it does these days.  Hats off to teachers everywhere who bend over backward EVERY SINGLE DAY to make learning fun and exciting.  That said, the classroom can't substitute the hands on, boots on the ground experience you get from getting out there.
One way to help your kids engage in and enjoy the process of learning this summer, is by having them become Junior Rangers.  The program integrates learning with activities about art, nature, science, and culture in fun, interactive ways  — with very little effort on the part of the parent.  And it's FREE.
Genius, I tell you.
You don't have to live in a different place each week and travel the country road schooling, like we did, to benefit from the National Park's Junior Ranger Program.  You can make a difference in your child's understanding of the world just by getting out of your regular environment, every once in a while, and committing to do something interesting and educational as a family.
I'm hoping to get our kids over to the Manhattan Project Junior Ranger Program before the summer's over.
What You Need to Know About the Junior Ranger Program…Besides that it's AWESOME
The Junior Ranger program is available at nearly every National Park in the USA!  You likely have one just around the corner, check here for all participating locations!  And other than park admission, it's FREE!
Many of these Parks include films, activities, games, or scavenger hunts that help the kids get engaged and motivated to learn something useful in the most pleasant way possible.
Each child receives a program book and completes the activities (based on age) either when they're onsite or long after you have left.  Simply put, your child can do the "work" at his own pace.
After reaching certain levels and completing specific activities your child will receive badges and certificates.  Who doesn't love that?!
Some activities are online — This Jr. Ranger Activity Downloadable Booklet should keep them busy!
Some parks offer specialty programs, badges, and patches like:
Some National Parks offer Junior Ranger Camps.  There are opportunities beyond that for older kiddos to continue learning if they just can't get enough.
Getting the Most Out of The Junior Ranger Program
If your kids are anything like ours, they'll be so busy filling in the Junior Ranger Packet (so they can earn another badge), they'll risk missing the essence of the park altogether.   Whether you're discovering deep forests or digging dinosaur bones, doing a little research beforehand will give your family a baseline understanding of what there is to explore.
With so much to learn, it's easy for to get overwhelmed with all the information bombarding you so, gather basic intelligence about the unique characteristics of the park before you arrive.  If you have time, download the activity packet for the park you're visiting so they have a chance to familiarize themselves with the information and know what to pay attention to.
Besides perusing the activity packet, one way to get your Junior Ranger ready is to have them research the topic a bit.  If they're old enough, and you want them to squeeze as much educational mojo out of it as possible, see if you can find podcasts, Youtube videos or documentaries about the area and look for links on the National Park Website that help prepare your child for their arrival.
Of course, you don't have to do any of that; all you really have to do is show up!  Summer can be exhausting. I'm thankful the park system has come up with a clever way of helping us educate our kids with hands-on activities that bring us all together.  I know our kids thrive on the opportunity to show off their skills, ask interesting questions, and earn badges like a boss — I bet yours will too!
TAKE ACTION:  Take a look at the Junior Ranger Website to find the nearest participating park.