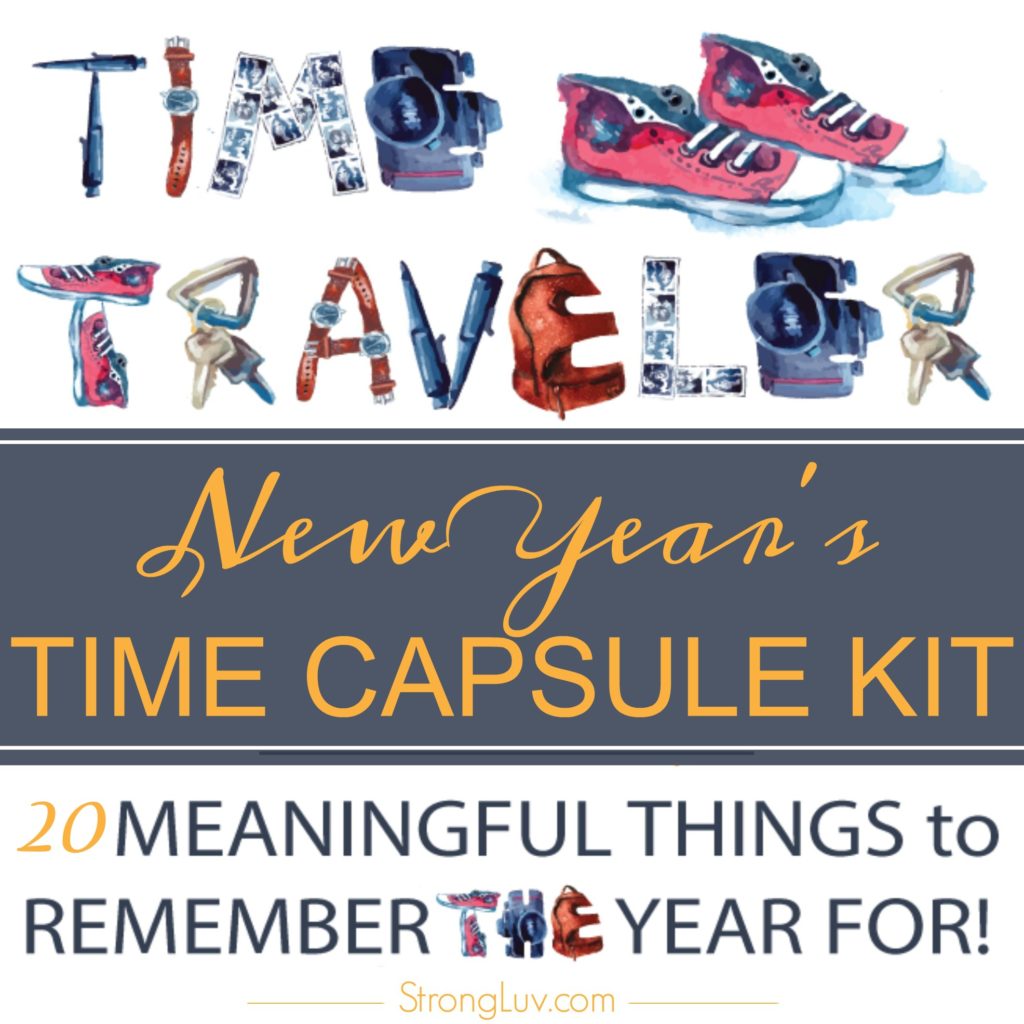 I created this New Year's Time Capsule Kit so we'd have an easy way to remember the past year.  I thought about what would be important to remember, then came up with 20 memories or thoughts to capture.   I'm calling it the Time Traveler Time Capsule because I like the idea of reading them in the future and, in a sense, being able to travel back in time.
Our family went over the questions during breakfast, talked about the year, and listened as we individually answered each one.  I'm glad we did it that way because once the kids sat down to write their answers in, they didn't have to rack their brains.  It was sweet to hear their responses and learn more about what happens inside those brains of theirs.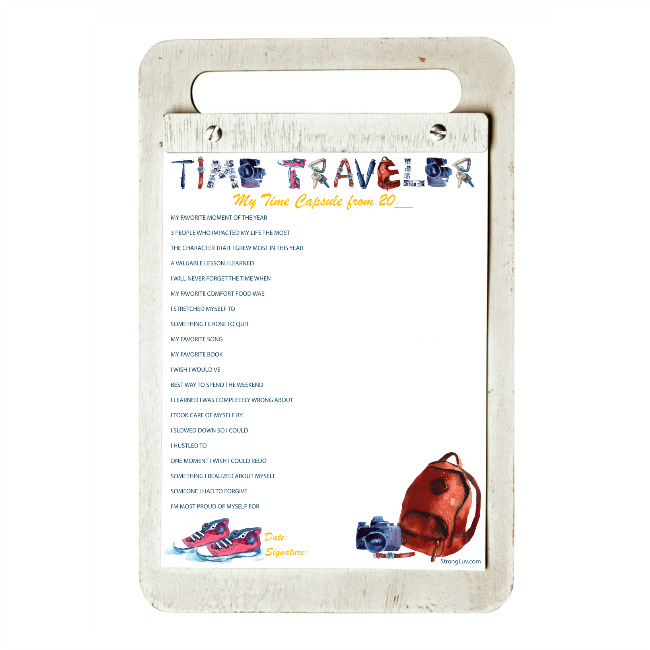 New Year's Time Capsule Questionaire
MY FAVORITE MOMENT OF THE YEAR
3 PEOPLE WHO IMPACTED MY LIFE THE MOST
THE CHARACTER TRAIT I GREW MOST IN THIS YEAR
A VALUABLE LESSON I LEARNED
I WILL NEVER FORGET THE TIME WHEN
MY FAVORITE COMFORT FOOD WAS
I STRETCHED MYSELF TO
SOMETHING I CHOSE TO QUIT
MY FAVORITE SONG & BOOK
I WISH I WOULD'VE
BEST WAY TO SPEND THE WEEKEND
I LEARNED I WAS COMPLETELY WRONG ABOUT
I TOOK CARE OF MYSELF BY
I SLOWED DOWN SO I COULD
I HUSTLED TO
ONE MOMENT I WISH I COULD REDO
SOMETHING I REALIZED ABOUT MYSELF
I'M GLAD I INVESTED TIME IN
SOMEONE I HAD TO FORGIVE
I'M MOST PROUD OF MYSELF FOR
These are the top 20 things we wanted to remember about the year, but if you have others, write them on the back so those important moments and memories aren't forgotten. 
Creating Your DIY New Year's Time Capsule
Once you've completed the Time Capsule questions, cut one of the labels (included in the Time Capsule Kit PDF), and wrap it around a cleaned out tin can (we used a soup can).  I used double sided tape on the back to attach the label to the can but hot glue or regular tape would work as well.  We folded ours and were able to fit all 5 in one can, but you could create separate time capsules for each member of your family if you wanted to.  Making them separately like that would provide extra space in the Capsule to add little mementos from the year.
If you want to see what the Capsule Cans look like when they're complete, watch the Facebook Live Video I did yesterday!
Maybe on next year's Time Capsule Questionaire, I'll answer the question: I will never forget the time when ______  with "I pushed past my fears and did my first ever live, uneditable video"!!!
I'm so happy with how our family's New Year's Time Capsule turned out and look forward to pulling it out of our Christmas decorations boxes next year and traveling back in time together as a family!  
TAKE ACTION: Life is busy, but take 20 minutes to do this DIY New Year's Time Capsule with your tribe.  It will be sweet to look back later and see how life has unfolded since you captured last year's memories!