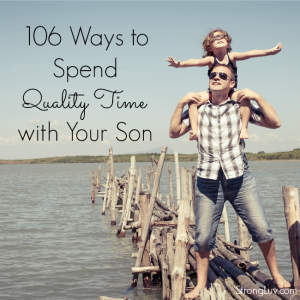 Since StrongLuv is all about "Strengthening Relationships One ACTION at a Time," today I wanted to give you a handy resource of Fun and Creative Ways to Send Quality Time with Your Son.  If you are anything like us, you have plenty of intentions of getting in some QT with your little man but you're struggling a bit in the follow through department.  If follow through isn't your problem but you find yourself doing the same activities over and over, this list of Quality Time Ideas should help you shake things up and get on track to making unforgettable memories together.
While this list is geared specifically towards spending time with sons, don't worry because I'll be publishing another post soon which will give you some creative, fun ideas of things to do with your daughters as well.
*If this is a resource you think your friends would enjoy, make sure to share it!
Quality Time Activities with Your Son for any Season:
Wrestle
Paint Faces in War Paint
Learn how to Juggle
Play His Favorite Sport Together
Go Jogging or Run a Race Together
Learn Jokes and Make Each Other Laugh
Go Zip-lining
Play Card Games
Build Paper Airplanes and Have a Flying Contest
Have a Lego Brainstorm and Building Session
Take a Hot-Air Balloon Ride
Tell Stories to Each Other in the Dark – with a Flashlight
Play in the Mud
Create a Blog Together
Go Geocaching
See who can Find the Coolest Thing at the Thrift Store for $5
Play Board Games
Play in the Rain
Take Him to a Fancy Restaurant
Decorate or Paint a Room or Piece of Furniture Together
Build and Launch a Rocket (kit)
Have a Water Gun or Water Balloon Fight
Make a Scrapbook
Redecorate the House
Take a Quick Ride in a Vehicle one of you Haven't Ridden in Before (bus, train, taxi, monorail, etc.)
Sing Songs Together – 2 Man Band
Bake & Decorate a Scary Looking Cake
Use Humorous Voices & Prank Call Friends or Family
Create a Comic Book
Paint Each Other's Faces
Make an Obstacle Course Inside or Outside
Make Gifts for Others
Go on a Scavenger Hunt
Volunteer Together
Go Swimming
Paint or Draw Together
Learn to Play an Instrument
Foam Dart Gun Fight
Do a Science Experiment
Send Him on a Treasure Hunt you Created
Decorate His Room Together
Play Freeze Tag
Dance Party in the Living Room
Set up a Photo Booth and Take Pictures of Each Other
Take Turns Reading a Book to Each Other
Write Stories Together
Take Turns Saying Tongue Twisters
Play Board Games
Pitch a Tent and Camp in the Backyard
Fly Kites
Ride Bikes
Have a Pillow Fight
Roast Marshmallows and Make S'mores
Go Snorkeling
Go for a Hike
Learn Magic Tricks
Go Bowling
Go Ice Skating
Decorate a Shirt, Bag or Pair of Jeans
Go to a Museum
Play Hide-and-Seek
Take a Class Together (Chocolate Making, Woodworking, etc.)
Play Chess
Go to the Zoo
Create Your Own Special Handshake
Explore Your Yard or Woods & Look for Birds, Butterflies or Insects
Build a Fort Together
Wake Him Up Early for a Surprise Sunrise Breakfast
Try a Food He Hasn't had Before (fried frog legs or sushi)
Take Him to a Fancy Restaurant for Desert
Take Him to a Professional Ball Game
Do a Random Act of Kindness for a Stranger
Pretend You are Super Heroes
Winter, Spring, Summer or Fall, if you're looking for some fun ways to spend quality time with your son in a specific season, I've got you covered!
Holiday / Winter Quality Time Activities with Your Son:
Decorate a Gingerbread House
Go Christmas Shopping
Make Christmas Tree Ornaments or Garland
Make Gifts Together for Friends & Family
Decorate Christmas Cookies
Take Him for Eggnog or Hot Cocoa at a Local Coffee Shop
Take Him on a Holiday Scavenger Hunt
Spring Quality Time Activities with Your Son:
Plant a Tree in the Yard Together in His Honor
Walk Barefoot in the Grass
Race in the Mud
Jump in a Cold Lake
Compete in a Three-Legged Race Against Friends
Play Kickball
Summer Quality Time Activities with Your Son:
Go Berry Picking
Go Out for Milkshakes or Banana Splits at an Old Fashioned Ice Cream Parlor
Make Popsicles
Make Hand Painted T-Shirts or Tank Tops
Tie Dye Something
Go to a Drive-in Movie
Build Sandcastles
Have a Picnic at Sunset at a Local Park
Walk Barefoot in the Grass
Fall Quality Time Activities with Your Son:
Paint, Carve and/or Decorate a Pumpkin Based on a Character in a Book they are Reading
Make a "Thankful Tree" & Hang it Up
Get Lost in a Corn Maze
Make an Apple or Pumpkin Pie Together
Bundle up for a Nature Walk – Collect Acorns and Colorful Leaves to Use in an Art Project
Make Caramel Apples
Build a Bonfire – Roast Marshmallows & Make S'mores
Enjoy Carmel Apple Cider from a Local Coffee Shop
TAKE ACTION: Sit down with your son and discuss what some of his favorite quality time activities would be from this list, and then look at your schedule and carve out a little time.  They grow up so fast don't they?!!