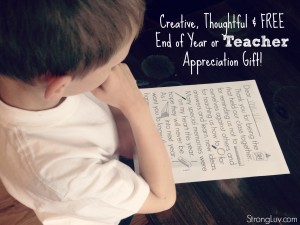 Teachers are basically underpaid rock stars so as the end of the school year approaches I wanted to save you the hassle of racking your brain for ways to say thank you.  I also want to save you from sifting through teacher appreciation gift ideas online with a fun and creative End of Year Teacher Appreciation Printable.
Teacher Appreciation Gifts Should be One of the Following:
Personal – Read between the lines of emails and interactions you've had throughout the year and make a mental note regarding what your child's teacher's interests are.  If you have the time, custom design a gift around those interests.
Thoughtful – Showing genuine gratitude for the effort, time, and attention a teacher has given will not go unnoticed.  Most of the time teaching is a thankless job, so don't worry so much about spending a bunch of money on a gift.  Sometimes the most meaningful and memorable gift is a warm hug with kind words or a card that expresses your gratitude.
Useful – Monogrammed stationery, a pack of movie tickets, or a donation to a charity that is near and dear to the teacher's heart all are great examples of useful gifts that any busy teacher would appreciate.
A Splurge – It's no secret that teachers don't make a lot of money, so any extra splurge is always welcomed.  Celebrating teachers by gifting them with something they wouldn't give themselves is a nice touch after a long year.  Don't worry, this doesn't mean you have to break the bank, here's an example of something that's splurge-worthy but costs only a few bucks to make.
A Thoughtful and FREE End of Year Teacher Appreciation Gift:
I have struggled throughout the years knowing just what to give these neighborhood heroes of ours who spend their strength nurturing the children who mean so much to us.  It blows my mind what teachers do for our kids on a daily basis.
It's unbelievably sacrificial.
I made this printout last year for the boys to give their teachers.  After they wrote their teacher's name on top and signed the bottom, they rolled this End of Year Teacher Appreciation Gift up like a diploma and accompanied it with a beautiful orchid.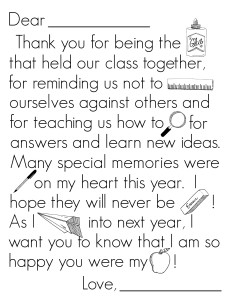 CLICK HERE TO GET THIS PRINTABLE SENT TO YOUR INBOX
Other Teacher Appreciation Gift Ideas
It's tempting to say "thank you" with teacher themed trinkets and mugs, but they'll get this type of gift from many other families so instead of cluttering up their desks with more of the same, shake it up a bit.
Beyond the Appreciation Printable, here are a few ideas:
Gift Cards:  Because EVERYBODY loves gift cards!  If you know where your teacher loves to shop that's a bonus, but you can't go wrong with a Starbucks, Target, or Nordstrom Gift Card.
Teacher Survival Kit:  A little humor goes a long way.  As much as these faithful ones love serving our kids, it isn't always easy.  A basket full of useful items such as: Lip Balm,  Ibuprofen, Hand Sanitizer, Coffee (Starbucks Via is my favorite for gift baskets) and/or Bottle of Cold Coffee, Granola Bars, Chocolate, Pack of Cookies accompanied by a note is sure to give them a little extra endurance.
A Bottle of Alcohol: A surprising gift that will make most teachers buzz with gratitude.  Unless it is clear that your teacher has a moral conflict with drinking, a bottle of bubbly can be a nice touch.  Even if they aren't much of a drinker, they're sure to have a chance to bring it with them to a party where it would be appreciated.
I know these aren't your typical apple themed teacher gift ideas, but I hope this post helped you think out of the box a bit.
TAKE ACTION:  Make sure to take advantage of the free Teacher Appreciation Printable.  It can stand on its own as a gift or accompany another treat!