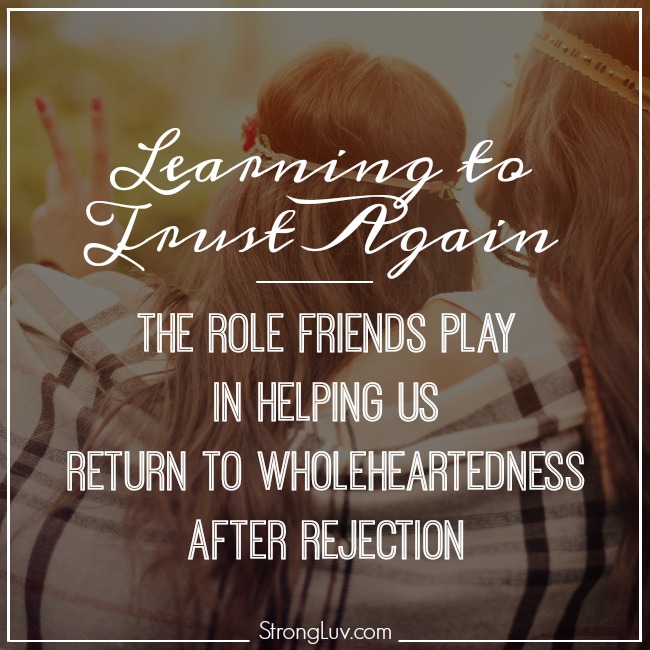 Ever had a friend you could share your darkest thoughts, deepest fears, secret sorrows and highest hopes with — without experiencing one single ounce of shame?
No filter needed.
Just when I thought my heart would be friendship fragmented forever, too bruised to let anyone into the deep, sacred spaces of my heart, this gem right here, showed up in the unlikeliest of ways, and helped me learn to trust again.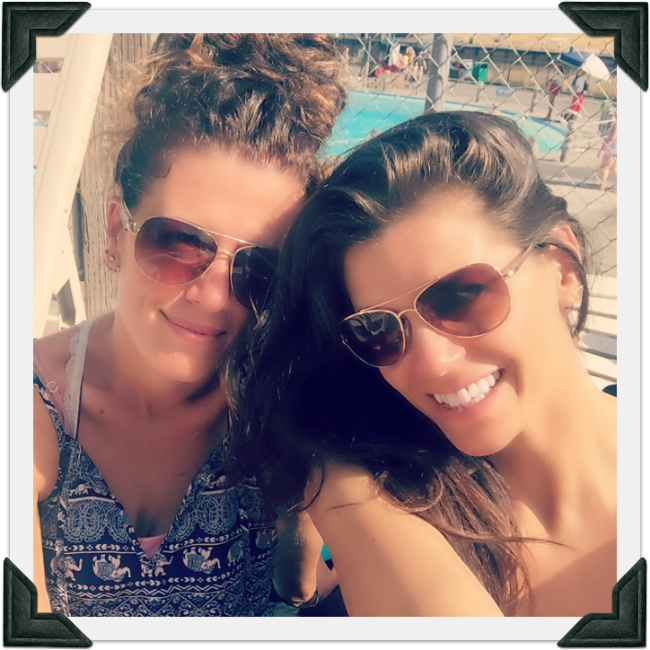 She showed me that sometimes God speaks to us in a still small voice and sometimes he shows up in the form of long-legged, curly haired strangers who know us better after one minute than most people will after a million shared moments.
He uses precious ones, like Jessie, to gently dust us off after we've been tossed aside.  Such divine friendships help us peel back the lies and labels we've worn like band-aids — lies we began to believe about ourselves and others as a way to shield our heart from being broken again.
Lies like:
I'm not _______ enough
I'm too sensitive
I'm bad at relationships
Nobody will ever understand me
People can't be trusted
I'm too broken to bounce back from this
Whether these labels are sensible or not, when you're left for dead by someone you've trusted with your life, you tend to question everything you know about yourself, God and people in general.  You gave your whole heart to them, yet they threw you away and never looked back, leaving you to find your footing in a world that felt harsher and darker than ever before.
Some encounter this dark harshness far too early through the abandonment of a parent or caregiver; others, later, through an unwanted breakup, distancing of a close family member, betrayal of a dear friend, unfaithful spouse or unexpected divorce.
Unfortunately, we've all tasted the bitterness, pain, and confusion of ruptured relationships; we've all found ourselves reeling from bonds we believed were unbreakable.  It's part of the human experience.
When an important relationship crumbles, the mind wants to make sense of our suffering, to prevent it from happening again.  The impulse is to insulate ourselves from future pain, so once we're past the initial trauma of the broken relationship, we assign reasons for why something once beautiful became broken.  Why something we thought was too strong to fragment, was fragile enough to fall apart completely.
Sometimes we place blame on the people who hurt us; sometimes we let the fault fall squarely on our own shoulders; most of the time we do a little of both.  Labeling, typically, has less to do with logic and more to do with self-preservation.
Assigning Labels to Others
When labels represent the offender, they're meant to remind us of the potential danger of being in relationship with someone who fits in the same category as the person or people who hurt us.
For example, let's say your husband leaves you for another woman.  After the initial shock wears off, you get a divorce, dive into therapy and begin the process of healing.  Two years pass, you're doing all the right things, yet one day you realize you still cannot have a comfortable conversation with men.  Not one single one!
Sure, there's your two brothers and that one close friend but, in general, men make you uneasy.  You don't trust them — at all.
With the help of your therapist, you begin to understand that ever since that devastating disclosure two years ago, you've unknowingly labeled men as lying, cheating, conniving pigs who cannot be trusted.
As a way to shield yourself from experiencing trauma like that again, you subconsciously placed those labels on all men.  It happened without you even realizing it.  Unfortunately, you won't be able to open your heart or establish a healthy relationship with a man until those labels are identified and removed.
Assigning Labels to Ourselves
On the flip side sometimes we create labels, not for the offender, but for ourselves.
Instead of identifying the threat as being outside of us, we begin to believe there's something intrinsically wrong inside of us.
Here's a small sampling of some labels I crafted for myself when my best friend unexpectedly cut me out of her life:
Weak | Needy | Naive | Too Broken | Worthless
I started to believe I was emotionally weak because the healing was taking longer than I thought it should.
I considered myself naive for trusting a friend so completely. I doubted if I could ever trust like that again.
I wondered if I was pathetic and needy to desire a friend that cared about and respected me as much as I did them.
I told myself God and family were all I needed.
I began questioning my value and worthiness. If a person who knew me more intimately than almost anyone else didn't think I was worth keeping around, what did that say about me?
Negative narratives, like these, keep us out of reach, which makes us feel safe for a while — but never satisfied.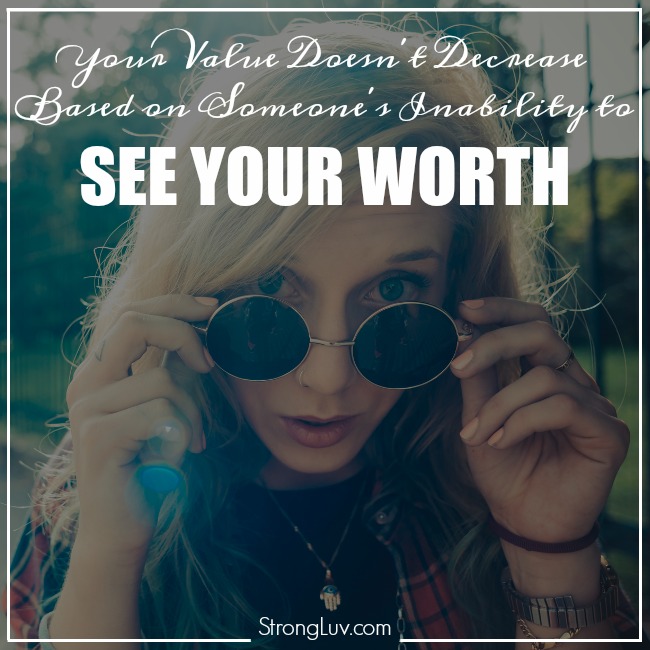 Learning to Trust Again
The human heart is designed for connection.  So at the right time, God, who's invested in our wholeness, nudges us to trust again.  Trust people again.  He sends flawed, flesh and blood comrades, like Jessie, to remind us that our own flawed frame isn't so bad after all.  That just because someone we loved was incapable of loving us back doesn't mean we are unlovable.
Friends help us replace the library of accusatory labels, scrolling through our mind, with the truth.  That truth gradually makes us courageous enough to pull back the string and open the shades of our soul.
Ever so slowly, fragments of light stream in until, with weak knees, sweaty palms and racing heart, we give ourselves permission to be seen again. Fully. By SAFE PEOPLE.
Broken yet beautiful.  Weary yet worthy.  Scarred yet unbelievably strong.  Slightly terrified yet ready to trust again.
Fighting to remain faithful in forgiveness and devoted to vulnerability, counts you among the most courageous in all of creation — one of the rare ones — HUMAN and WHOLEHEARTED.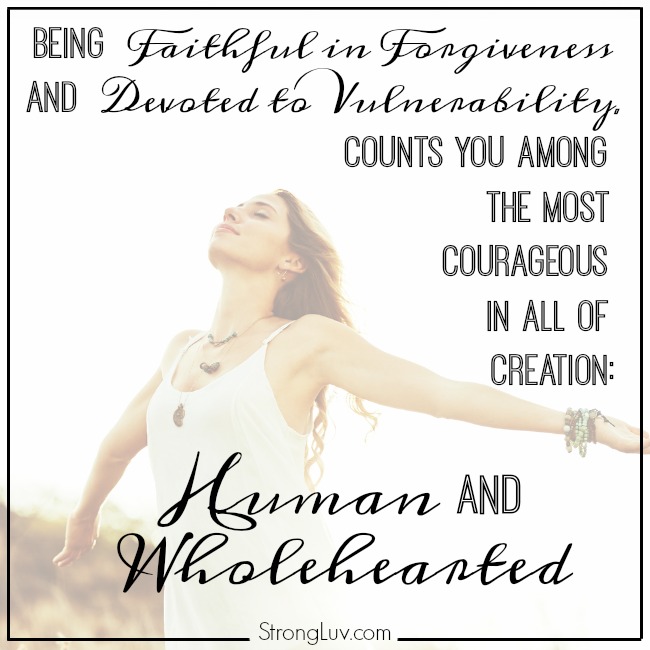 TAKE ACTION: If you have a "Jessie" in your life, let her know how her friendship has healed you in some way. Take a second, right now, to forward her this post or tag her with it on FB or Instagram!  If you don't have a friend like that, this is a good place to start.